Capabilities
PCC capabilities include manufacturing products of industry consensus standard, OEM and vendor standards under license, and products of our own design.
One Stop Shop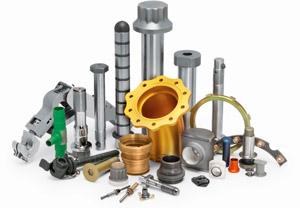 PCC manufactures industry consensus standard, OEM standard, vendor standard under license, and products of our own design, which cover the majority of application requirements.
We work with the major fastener configurations, materials, and finishes controlled by ABS, AN, ANSA, BAC, DAN, EN, MS, NAS, NSA, 3D, 3M, and other specifications. We cover the entire spectrum of diameters, threads, and lengths in both unified and metric standard sizes.
High Performance Materials
When application requirements call for performance far exceeding that available from traditional materials, PCC turns to its expertise in superalloys to achieve a combination of unique properties. Fasteners made from our proprietary materials such as MP35N®, MP159®, AEREX®, MP98T®, and SPS TITAN™ 761 titanium alloy deliver strength-to-weight and elevated temperature strength and corrosion resistance to meet the most demanding airframe structural and engine requirements.
Design to Solution
Today's challenging competitive environment necessitates continuous improvement in aircraft performance, cost, and operation. PCC develops products to address ease of manufacture/automated assembly, reduced part count, weight reduction, ease of operation, condition monitoring, ease of maintenance, and other producer and operator needs. Please contact us for collaborative support of your project.