We are a manufacturer of precision tube fittings and machined components for military and commercial aircraft, engine, space, and industrial programs. Whether it's the simplest connector or the most complex fitting, each Airdrome part is made to perform under the most demanding conditions. Mission after mission.
In choosing the ideal supply partner for fittings and precision-machined parts, your decision will take into account quality, capability, dependability, availability, flexibility, and cost effectiveness. Since 1950, Airdrome has been the one fitting supplier who has delivered on each and every one of those factors. Project after project. Time after time.
Airdrome is owned by parent company Precision Castparts Corp. The Airdrome facility consists of 24,000 sq. feet of manufacturing, lab, production, and office space and is a Global Supplier; exporting products to 18 different countries. Airdrome has the following certifications and qualifications:
ISO 9001 British Stds. Inst.
AS9100 British Stds. Inst.
PRI-NADCAP AS7112
EADS EN9100
Boeing Preferred Supplier
Lockheed Star Supplier
Manufacturing
Airdrome Precision Components specializes in manufacturing hydraulic and pneumatic tube fittings, with focused manufacturing facilities producing:
AN, MS, NAS, AS, KC, EN, NSA
Flared and Flareless Fittings
Weld Fittings
Braze
Internal Swage
BAC Lightweight
External Swage
Beam Seal
Shape Memory-Compatible
Self Locking Nut
Seals
Special Machined Parts
Industrial Fittings
Make To Customer Specifications

Whether it's the simplest connector or the most complex fitting, each Airdrome part is made to perform under the most demanding conditions. Mission after Mission.
Our seven major product lines offer customers over 15,000 configurations; 27,000+ different line item products in all. We maintain an extensive stock of finished goods inventory to support Just-In-Time contracts and minimum stocking levels for long-term agreements with customers.
Our tremendous product depth means you get the parts you need, in the quantities you want, when you need them.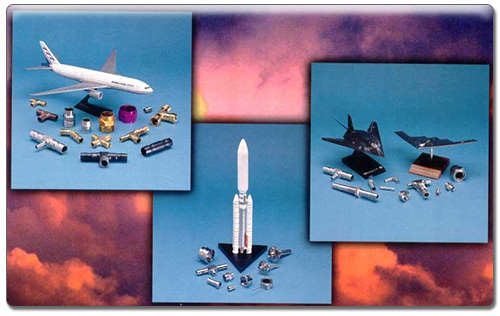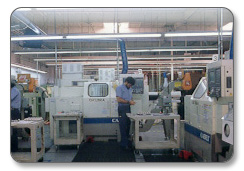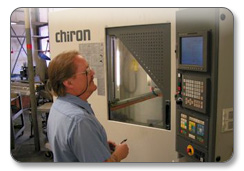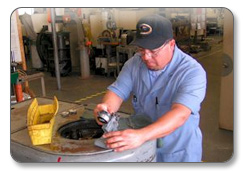 Airdrome's 53 years of fitting experience is reflected in our ability to provide high quality, dependable products within the shortest lead times. From a manufacturing standpoint, we have created an advanced manufacturing facility devoted to producing products using single piece product flow.
Equipment and processing capabilities include:
6-Spindle Auto Screw Machines
Accuturn CNC Lathes
Chevalier Surface Grinder
Sunnen Hone
Okuma LB15 CNC Turning Centers
Okuma LNC-8C CNC Turning Centers
Cadillac Engine Lathe
Mercury Cut-off Saw
Pedestal Drill Presses
Hardinge CNC Lathes
J+L 14" Optical Comparators *
Darex XPS-16 CNC Drill Grinder
Tree Journeyman CNC Mill
Okuma LB10 CNC Turning Center
Baldor Disc Grinder
Republic CNC Horizontal Mill
Cincinnati Centerless Grinders
Reed A22B and A22 Thread Rollers
Brother Hi-Tap Tapping Machine
K&K Calamar Lapping Machines
Cyclo-Blast Vaport Hone
Auto Technology Salt Spray Booth*
Wilson 4JR Hardness Tester*
All products are manufactured using 100% Statistical Process Control (SPC), with operators empowered to shut down processes if a minimum 1.66Cpk is not maintained. This assures each and every piece within a lot meets drawing requirements – and in fact, hits nominal tolerances as opposed to using the entire tolerance band. What you get are consistent parts with minimal part to part variation.
To assure maximum available capacity, APC has also established long-term relationships with key suppliers. Our supply base has been strategically developed to provide us with additional capacity, operational flexibility and shorter lead times than our competitors. And our use of advanced supplier management techniques also allows us to assure unparalleled quality and delivery on all products – whether manufactured internally or externally.
APC – and our suppliers – have a demonstrated commitment to Lean Manufacturing techniques. Our use of Accelerated Improvement Workshops (AIW's), SPC and Cellular Manufacturing assures the highest quality and shortest lead times for every production order.
From initial quote to final product delivery, Airdrome is committed to meeting or exceeding the needs of our customers.
Services
Airdrome Precision Components not only manufactures high quality fittings, we also offer value-added services to a variety of OEM's. Please contact our Sales department for further information and quotes related to utilizing our state-of-the-art product testing facility.
Test Lab
Airdrome Precision Components Testing Capabilities
Airdrome Precision Components Test Laboratory has hydromechanical test stands to perform fitting/tube assembly tests as required by various aerospace procurement general specifications, including AS 18280, AS 4444, AS 85421, AS 85720, and ISO 7169. The capabilities of the APC test lab include:
Static Nitrogen Pressure Testing
Pneumatic Pressure Testing
Rotary Flexure Fatigue Testing
Damped Wave Impulse Testing
Static Hydraulic Pressure Test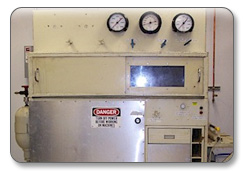 Aerospace specifications typically require proof pressure testing at two times operating pressure, and burst pressure testing at four times operating pressure. Each of these tests is a static pressure that requires test samples to be pressurized for 3 to 5 minutes without leaking. Also, burst pressure to fail tests may be performed. This test requires increasing fluid pressure until leaking, or catastrophic failure, occurs. APC test lab's pressure test stand is capable of pressures up to 30,000 psi.
Pneumatic Pressure Test
To meet the requirements of current test specifications APC has a pneumatic test stand capable of testing with pressurized N2 gas up to 5,000 psi, and He2 gas up to 3,000 psi. The requirement usually is to pressurize the fitting or tube assembly to operating pressure with nitrogen gas for three to five minutes without leaking. To detect leaks samples are submerged in water after being connected to the test manifold.
Rotary Flexure Fatigue Test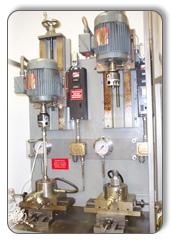 Specifications vary in what is required for rotary flexure fatigue testing. A test series may be conducted that requires all samples, usually six per size, to pass 107 cycles at a minimum bending stress level. Or, the requirement may be to develop an S/N curve with six samples plus to additional samples to pass 107 cycles at a minimum bending stress. APC test lab has five rotary flexure stations to meet either requirement. Each station is capable of working with tube assemblies ranging in size from –02 (0.125 inch diameter tube) to size –32 (2 inch diameter tube), with an operating pressure of up to 8,000 psi, and a temperature range from ambient to 275°F. Specifications that may be referenced for this testing are SAE ARP 1185 and ISO 7257.
Damped Wave Impulse Test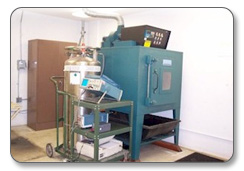 The typical requirement for the damped wave impulse test is 200,000 pressure cycles with pressure peaks approximately 150% of the operating pressure (actual pressure peak depends on the specification and operating pressure). The test is conducted at a rate of 65 ± 5 cycles per minute. The APC lab impulse stand is capable of conducting tests with an operating pressure of 5,000 psi, with pressure peaks of 7,500 psi, and a temperature range from ambient to 275°F. Specifications that may be referenced for this testing are SAE ARP 603 and ISO 6772.
* Inspection/Test Equipment

We have received numerous quality awards and certifications. We are proud to be the only fitting manufacturer to back all products with complete Quality Assurance and Statistical Process Control (SPC) certifications from virtually every major domestic and international aircraft and engine manufacturer.
ISO 9001:2008 / AS9100-C
AS7003
Boeing Preferred Supplier
Vought Platinum
Our Quality Policy
In our resolve to remain a profitable and successful company, we are fully committed to the highest possible standards of quality in our products, processes, and procedures.
To accomplish this, we maintain a process of ongoing improvement with a sustained commitment to Advanced Quality System activities. This effort ensures products and services which maximize customer satisfaction and serve as the benchmark for our industry.

Airdrome Precision Components, located in Gardena, California, designs, manufactures, and distributes a full range of precision tube fittings and machined parts used in a wide variety of commercial and military aircraft, engine, space, and industrial applications.
Founded in 1950, the company enjoys a reputation for excellent service and high-quality products manufactured from stainless steel, titanium, aluminum, and other specialty alloys to meet exacting standards specified by customers.
Whether your needs are for AN, MS, NAS, AS, MA, KC, EN, NSA, ISO, Weld, Braze, Internal Swage, BAC Lightweight, Beam Seal, Shape Memory-Compatible, Self Locking Nut, Seals, Special Machined Parts, or Industrial Fittings, Airdrome makes world-class products and delivers them the world over.
Airdrome provides all these fittings to our Authorized Distributors (see below), who, in turn, sell to a world wide variety customer base.
Authorized Distributors
Align Aerospace
21123 Nordhoff St.
Chatsworth, CA 91311
Ph: 818-727-7800
www.alignaero.com
Patton Air
1900 Robotics Place
Fort Worth, TX 76118
Ph: 817-284-4449
www.pattonair.com
B/E Aerospace
9835 NW 14th St.
Miami, FL 33172
Ph: 305-925-2600
www.beaerospace.com
Patton Air France
ZAC du Chêne Bocquet
Boulevard Henri Navier
Taverny 95150
Ph: +33 (0) 1 34 18 61 00
Wesco Aircraft
27727 Avenue Scott
Valencia, CA 91355
Ph: 661-775-7200
www.wescoair.com
Interfast
22 Worcester Road
Toronto, Ontario, M9W 5X2
Ph: 416-674-0070
www.interfast.ca
W.G. Henschen
7363 E. Tierra Buena Lane
Scottsdale, AZ 85260
Ph: 480-348-8282
www.wghco.com
UFC Aerospace
100 Corporate Dr.
Holtsville, NY 11742
Ph: 631-435-3535
www.ufcaero.com
AEK Technology
12922 Pierce Street
Pacoima, CA 91331
Ph: 818-686-1445
www.aektechnology.com
Aerospace Fasteners (UK)
Ph: +44 (0) 1628 407454
F: +44 (0) 1628 630169
www.aerofast.co.uk

Airdrome
14800 S. Figueroa Street
Gardena, CA 90247
Phone: (562) 426-9411
Website: pccfluidfittings.com