Overview
Cherry Aerospace is a global leader in the design and manufacture of multi-piece fastening systems for the aerospace industry. The Cherry® name is synonymous with aerospace rivets, and the CherryMax® line of rivets is the most widely-used in the industry.
The Cherry® brand dates back to 1940 when Cherry Rivet Company introduced easily-installed blind fasteners, which were quickly adopted as an aerospace industry standard. Operating out of a 286,000 square foot facility in Santa Ana, California, Cherry's full line of products includes blind rivets, blind bolts, rivetless nut plates, shear pin fasteners, temporary fasteners, and installation tools.
All Cherry products are available from a large number of distributors, including locations in the United States, Australia, Canada, China, Czech Republic, Dubai, France, Germany, Italy, Japan, Mexico, Poland, Puerto Rico, Singapore, Spain, Switzerland, and the United Kingdom.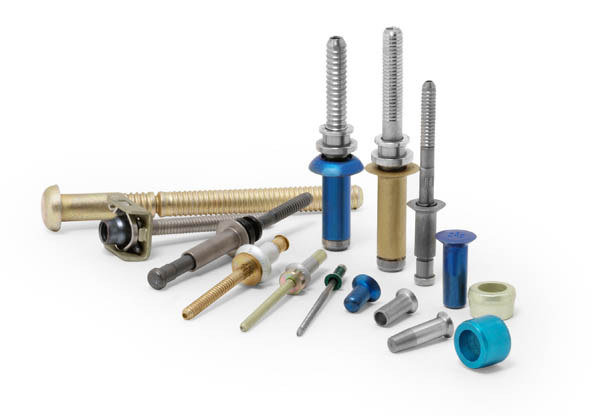 Capabilities
Key Processes 
Product design
Progressive heading
Form rolling
Automated assembly
Heat treatment and surface processing
Product training and application support
Installation tool design and manufacture

Products
Blind Rivets
Blind Rivets are multi-piece rivet assemblies capable of being installed from one side of the workpiece. Traditionally, blind rivets were used on aircraft leading edges, trailing edges, and close out areas. Current blind rivet usage has expanded to many additional areas of the aircraft in an effort to decrease labor expense and to address the ergonomic issues of solid riveting.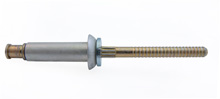 CherryMAX® is a locked spindle blind rivet with a visibly inspectable mechanical locking device and its own installation washer, which eliminates the problems resulting from worn tool anvils. It is called a "bulbed" fastener due to its large blind side bearing surface, developed during the installation process. CherryMAX® rivets are used in thin sheet applications and for use in materials that may be damaged by other types of blind rivets. The CherryMAX® rivet is the most reliable, high strength structural fastener with visual inspectability in the world today.  It features the "Safe-lock" locking collar for more reliable joint integrity.
CherryMAX® tooling delivers a simple, trouble-free installation. CherryMAX® fasteners are currently available in 1/8" through 1/4" diameters in both nominal and 1/64" oversize diameters. The tools utilize one pulling head to install many diameters, head configurations, and material combinations.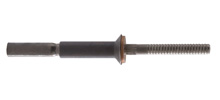 As part of the CherryMAX® family of proven fastener systems, CherryMAX® "AB" rivets are wiredrawing (shank expanding), locked-spindle, flush fracturing, structural rivets meeting the requirements of procurement specification NAS1400 and conforming to NAS1398 and NAS1399 "AB" code standard pages. These rivets provide excellent sheet take up and hole filling performance. "AB" code utilizes non-shift tooling that allows the use of one pulling head for multiple fastener diameters. Use with CherryMAX® tooling.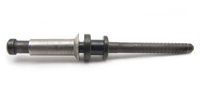 With the increased use of composites in aerospace structures, the NAS1900 rivet has become a fastener of choice in many designs. The Cherry® 1900 further improves this design with the available Cherry Shift Washer that allows for more consistent fastener installations and extended tool life. This fastener also utilizes the Cherry "One Tool Concept to allow usage of existing tooling. The Cherry 1900 forms a large blind-side footprint that makes it suitable for composite structures. The flush-break capability eliminates the need for shaving. The Cherry 1900 is manufactured to meet NAS1919 and NAS1921 specifications and is available in all sizes and materials.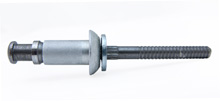 The Cherry SST® Blind Rivet System was designed to solve many of the blind fastening problems associated with aircraft assemblies requiring superior sheet take-up. Installation of the SST Blind Rivet System ensures consistent and permanent fastening of difficult assemblies with inherent gapping or slightly misaligned holes. The SST Blind Rivet System can be installed with standard CherryMAX® tooling, with no adjustments needed. Eliminate sheet gaps in your toughest assemblies...use the SST Blind Fastening System for superior sheet take-up.
Bulbed CherryLOCK® rivets are locked spindle and flush fracturing structural rivets. They conform to Procurement Specification NAS1740 and standards pages NAS1738 and NAS1739.
Bulbed CherryLOCK® is a complete shear fastening system. Its features can be utilized for optimum strength and performance in both thick and thin sheets. It provides the highest possible design integrity, particularly in double dimple or thin backside sheet applications. CherryLOCK® hydroshift installation tool systems are required for installation.

Wiredraw CherryLOCK® Rivets are locked spindle flush fracturing structural rivets with a wide range of sizes, materials and strength levels. This fastener is especially suited for sealing applications and joints requiring excellent sheet take-up. It conforms to Procurement Specification NAS1400 and Standard Pages NAS1398 and 1399. CherryLOCK® hydroshift installation tool systems are required for installation.
CherryLOCK® "A" is a single action, mechanically locked, wire-drawing fastener that provides excellent hole-fill and sheet take-up capability conforming to Procurement Specification NAS 1400, and Standard Pages NAS 1398 and NAS 1399. It feature a full range of head styles, diameters and grip lengths for a variety of application requirements. It is available in A-286 CRES, Aluminum and Monel sleeve and stem combinations.

Cherry® Nut Plate Rivets are "pull-through" or "hollow" type rivets. They are used where the high shear strength of the self-plugging type of rivet is not required.  This design provides good clamp up and excellent hole filling characteristics, in an inexpensive rivet.  This rivet is primarily used in nut plate applications and meets the torque-out and push-out requirements of NASM25027 for nut plates. It is available in mild steel and A-286 stainless steel rivet sleeves, and meets MS20604 and MS20605 requirements.

The Cherry TackMax® is a blind fastener designed to aid in assembly stack-up and automation. The fastener delivers a high-clamping force during installation to remove any remaining gap between layers. The fastener has also been optimized for automation by providing a high contrast red colored sleeve and tight tolerances on concentricity to the installation hole, allowing the head of the fastener to be a coordinate mark for vision systems. For ease of removal, Cherry TackMax® incorporates anti-rotation features and special fastener ends that serve as built-in drill guides to reduce drill wobble.
The Cherry TackMax was designed around the Cherry One Tool concept. This means that existing single action installation tools from Cherry are capable of installing this fastener. No change in nose-piece is required for most tooling configurations. Consult the Cherry Product Expert for more information.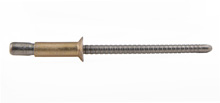 The 3/32" SPR® Self-Plugging Rivet provides higher strength than pull through rivets, yet still is in the lower price range of nut plate rivets. The Cherry 3/32" SPR blind rivet is ideal for securing nut-plates located in non-accessible and hard to reach areas where bucking or squeezing of solid rivets is unacceptable. Developed to replace solid and pull through rivets in non-structural applications, the unique product design allows for a positive lock to be achieved without an additional lock ring component. Installed with single action tooling, the Cherry SPR stem breaks flush with the rivet head during installation.

Cherry® MS rivets have been a reliable standard of the industry ever since their introduction in 1937.  Although superseded in 1960 by the new locked spindle specifications NAS1400 and NAS1740, Cherry MS rivets are still widely used in manufacturing, maintenance, and repair, and meet the qualification requirements of Mil-R-7885 Type II.  Cherry® MS rivets are manufactured with serrated stems.  The earlier, knob stem configuration is considered obsolete.  Cherry blind installation tools may be used to install these rivets merely by changing the pulling head.

Cherry MBC® is a blind, flush break, locked spindle, structural  blind rivet available in aluminum and stainless steel materials.  It has a wide grip range, very good joint integrity, high strength-to-weight ratio, and  good hole fill.  The MBC is available with or without a lock creator.  The lock creator feature allows a single pulling head to install different diameters with one pulling head, as in the CherryMAX® type rivet.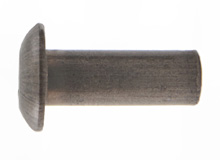 Chobert® is the original high-speed riveting system used extensively throughout the fabrication industry for assembly of material, including metals, plastics and ceramics. The Chobert system is a mandrel-loaded feed system using one mandrel with multiple rivets loaded in sequence for high speed riveting. Lightweight fabrications are assembled without damage to these materials, and consistent performance is achieved every time.
Chobert® is a trademark of Avdel UK Limited.
Please see our standard pages for product drawings.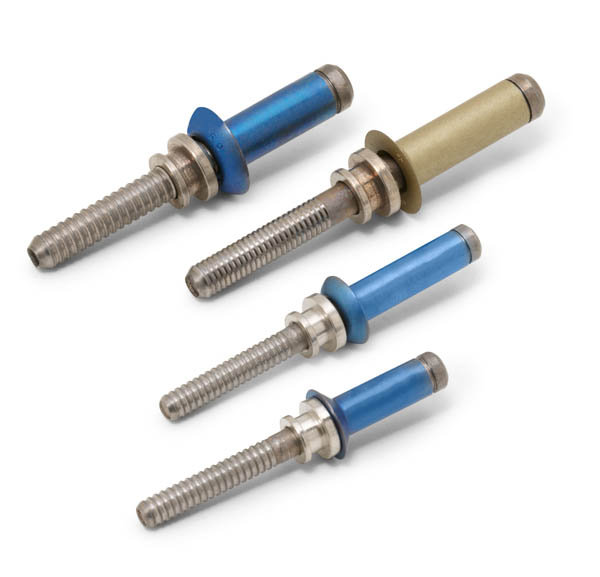 Blind Bolts
Blind Bolts are multi-piece assemblies, capable of being installed from one side of the workpiece. They are typically used in higher strength aircraft structural applications.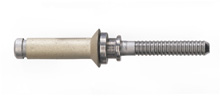 The Cherry Maxibolt® Blind Bolt system is available in alloy steel and A-286 CRES materials. It conforms to MS90353/MS90354, and MS21140/MS21141, meets the requirements of MIL-F-81177 and MIL-F-8975, and is listed in QPL81177 and QPL8975. Maxibolts are primarily used in structure where higher loads are required: Steel Maxibolts are rated for 112 KSI shear strength applications and A286 Maxibolts for 95 KSI shear strength applications. Use Cherry tools for the most reliable installation performance.

Maxibolt® Plus blind bolts are available in -5, -6, and -8 diameters and stainless steel, and titanium materials. One tool and pulling head installs all three diameters. Creating a larger blind side footprint, they provide excellent performance in thin sheet and non-metallic applications. The flush breaking stem eliminates shaving while the extended grip range accommodates different application thicknesses.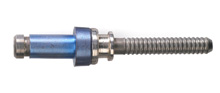 Titanium Maxibolt® Blind Bolts feature expanded performance capabilities for metallic and composite blind fastening applications. They provide a flush, burr- free installation with no shaving required. The Titanium Maxibolt offers fast and consistent installation by utilizing single action tooling with a unique shift washer design. The all-titanium sleeve and stem are compatible with exotic composite materials. They cause no delamination of the exit side of the structure during installation, and offer a blind-side slope tolerance up to 7°. Use Cherry tools for the most reliable installation performance.
Please see our standard pages for product drawings.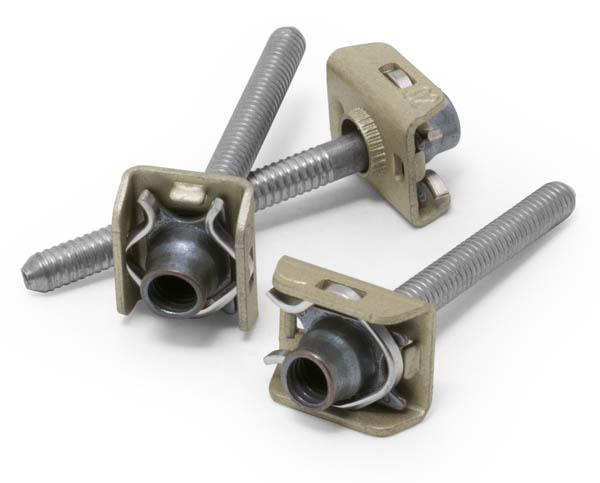 Rivetless Nut Plates
The Rivetless Nut Plate replaces standard riveted nut plates. It features a retainer that does not require flaring to meet NASM25027 torque-out and push-out requirements. This eliminates the need for two additional rivet holes, as well as the need for reaming, counterboring and countersinking operations.
Shear Pin Fasteners
Shear Pins are high-strength fasteners with one or more pieces used on aircraft shear joint structural assemblies. In a shear joint, under stress, the fastened members tend to move in opposing directions parallel to their mating surfaces.


Cherry® Lockbolts are available in pull or stump type; 1/8" through 3/8" diameters, nominal and oversize; in aluminum, steel and CRES materials and in countersunk or protruding head styles.  Lockbolts up to 3/16" dia. can be installed with the G83 tool, and up to 1/4" dia. with the G84 tool. A number of Lockbolt Collars are also available in NAS1080 configurations.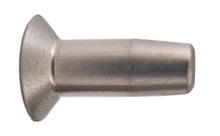 CherryBUCK® is a bi-metallic, one-piece fastener that combines a 95 ksi shear strength shank with a ductile, Titanium-Columbium tail, interchangeable functionally with comparable 6AI-4V, two piece shear fasteners, but with a number of advantages:
One Piece = No FOD
Has a 600° F allowable temperature Has a very low backside profile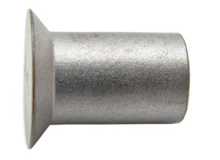 The Cherry E-Z® Buck rivet is a 50 ksi ductile Ti/Cb titanium alloy solid rivet. Its ductility eliminates the sheet distortion found when using monel rivets, and is excellent for fatigue critical applications.
The Cherry Hollow End E-Z Buck® is a 40 ksi shear Titanium-Columbium alloy rivet with a unique recess configuration designed specifically for double-flush applications in composite and metallic materials. Teamed with its specially designed installation tool die, Cherry Hollow End E-Z Buck® offers a number of significant advantages.
Please see our standard pages for product drawings.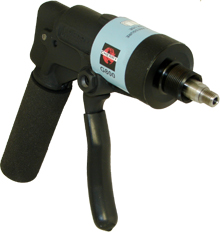 Installation Tools
Cherry® Installation Tools are manufactured to provide maximum service with minimum care. They are offered in a wide variety of hand, pneumatic and pneumatic/hydraulic versions, with optional accessories to permit their use in difficult and limited access areas. The size and type of fastener being installed dictates the type of tool to be used. Read on for more information or check out our tool catalog and installation manuals availabe in multiple languages.

Quality
Cherry Aerospace is committed to meeting or exceeding quality expectations. We are dedicated to becoming the preferred supplier of innovative products and solutions. Our continuous improvement culture is dedicated to delivering quality and operational excellence to customer and industry requirements through robust systems, processes, methods, and benchmarking.
Our manufacturing processes utilize statistical process control as an ongoing measure of quality. To ensure product compliance, Cherry Aerospace also utilizes state of the art inspection and testing equipment such as computer controlled shear and tension testers, optical comparators, hydrogen analyzers, and electronic interface gaging. In addition, we also have a sophisticated metallurgical laboratory with diagnostic equipment that includes a scanning electron microscope and an energy dispersive x-ray spectroscope.
Quality System Accreditations
Cherry Aerospace's quality system is certified to ISO 9001 and SAE Aerospace AS9100. In addition, our heat treat, plating and test lab processes are certified by the National Aerospace and Defense Contractors Accreditation Program (Nadcap). The Federal Aviation Administration has authorized Parts Manufacturer Approval (PMA) and Technical Standard Order (TSO) C148 for applicable part numbers.
Current Cherry Certifications
ISO 9001 and AS9100
ISO 14001
Nadcap - Materials Testing (AS7101)
Nadcap - Heat Treating (AS7102)
Nadcap - Chemical Processing (AS7108)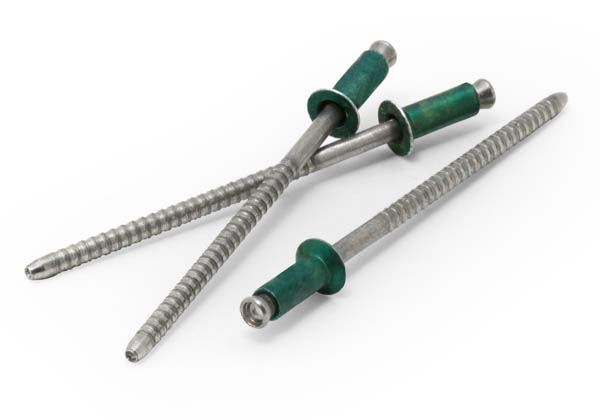 Cherry Aerospace
Address:
1224 East Warner Avenue
Santa Ana, CA 92705
Phone:  714-545-5511
Fax: 714-850-6095