Fatigue Technology
Providing innovative solutions for new aircraft production and aging aircraft refurbishment.

FTI has spent the last 50+ years serving the aerospace industry. What started out as a simple wire forming company in a Seattle garage has become a major player in the aerospace community by providing innovative solutions for new aircraft production and aging aircraft refurbishment. FTI officially entered the aerospace business in 1969, when it helped pioneer the hole cold expansion process. The cold expansion process originated with The Boeing Company who invented the basic cold expansion method.
Within a year, Claire Harter of Industrial Designers (the precursor to FTI) invented and put into production the first machine to manufacture the split sleeve, which made the cold expansion process possible. Development continued, and Boeing subsequently granted FTI a license for sale and distribution of the tooling used in implementing the process.
Mr. Burke Gibson, a Seattle businessman, purchased controlling interest in the company in 1973 and a year later changed the name to Industrial Wire and Metal Forming. In 1976, Louis Champoux (a consultant with the company) and Chuck Copple built one of the company's first fatigue-testing machines for further research into the split sleeve cold expansion technology.
In 1980, the company changed its name to Fatigue Technology Inc. (FTI). FTI continued to develop and advance the science of cold expansion and engineer innovative solutions and products that significantly reduce manufacturing and maintenance flow-time and costs. The company patented aerospace products like ForceMate (bushing installation system), ForceTec (rivetless nut plates), TukLoc (blind fastening system), GromEx (composite hole inserts), and FleXmate (fitting and hardware installation system).
FTI's products can be found on almost every major airplane and helicopter program on the market today and it continues to push the cold expansion envelope with new and innovative products for tomorrow's advance composite air structures.
To support its customers, FTI has offices and representatives worldwide including its 120,000 square foot engineering and manufacturing headquarters where most of its employees strive everyday to provide aerospace customers with the very best products and services - a tradition it has held for over 50 years.
In 2008, the Gibson family sold FTI to Precision Castparts Corp. (PCC).

Fatigue Technology has capabilities to service the following industries:
Commercial Aerospace
Helicopter/Rotor
Bridges & Infrastructure
Medical
Marine
Military Aerospace
Railroad
Space
Automotive
Energy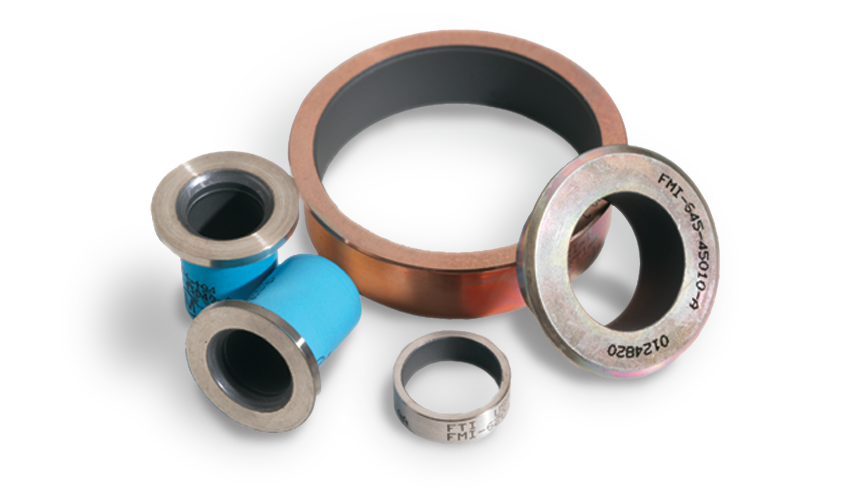 Split Sleeve Cold Expansion
ForceTec Rivetless Nut Plates
ForceMate Bushings
TukLoc Blind Fasteners
FleXmate Fittings
GromEx Composite Liner
RailTech
StopCrackEX (Bridge Repair)
SPLIT SLEEVE COLD EXPANSION
FTI's Split Sleeve Cold Expansion™ system is a cost effective solution to problems associated with fatigue cracks in holes in metal structures. Split Sleeve Cold Expansion is accomplished by pulling a tapered mandrel, pre-fitted with a lubricated split sleeve, through a hole in aluminum, steel or titanium. The function of the disposable split sleeve is to reduce mandrel pull force, ensure correct radial expansion of the hole, preclude damage to the hole, and allow one-sided processing.
The process works by imparting beneficial compressive residual stress around the hole. The action of drawing the mandrel through the starting hole causes a radial plastic flow of material and results in an annular zone of residual compressive stresses that extend up to one diameter beyond the edge of the hole as shown below.
The sleeve allows for one-sided processing and shields the hole from frictional forces generated by the high interference of the expansion mandrel. The residual stresses created by cold expansion significantly increase fatigue life by reducing the stress intensity factor and crack growth life by reducing the applied stress ratio at the hole. The magnitude of the peak residual compressive circumferential stress is about equal to the compressive yield stress for the material. The compressive stress zone spans one radius to one diameter from the edge of the hole, for diameters up to 1/2 inch for most materials. A balancing zone of tensile stresses lies beyond the circumferential compressive stress zone.
Benefits of Split Sleeve Cold Expansion
In most cases, at least 3:1 fatigue life improvement
Arrests small crack growth
Cost effective alternative to redesign
Adds no weight to structure
Works on all common aerospace materials
Simple, one-sided operation
Applicable in production and rework
Can be automated
Cold Expansion to Size
Cold Expansion to Size is the same general practice as standard Split Sleeve Cold Expansion, but the process eliminates final reaming of the hole. Cold Expansion to Size is material dependent, and the tooling is designed according to the properties of the material. By knowing how different material reacts to the radial stresses of Split Sleeve Cold Expansion, we can predict the final hole size. Cold Expansion to Size is ideal for production work, but has also been used in rework situations. Also, Cold Expansion to Size works well when incorporated in automated drilling/fastener insertion systems.
Countersink Cold Expansion
Yes, Cold Expansion can be applied to holes requiring a countersink. The tooling is specifically designed to simultaneously cold expand the countersink and straight portion of the hole. Countersink Cold Expansion is applicable in both production and rework.
For more information, please contact us.
RIVETLESS NUT PLATES
ForceTec is a unique method of installing an innovative and cost effective rivetless nut plate. Unlike conventional riveted or swaged-in nut plates, the ForceTec system radially expands a retainer into a hole. The retainer is designed to be permanent, and only the nut itself requires replacement.
 ForceTec rivetless nut plate system is widely used as an alternative to traditional riveted nut plates. ForceTec's simple installation makes it a cost effective option, significantly reducing labor and maintenance costs over the life of the aircraft. ForceTec eliminates the need for satellite holes and rivets, which are required for most nut plate installations. Instead, ForceTec is fastened to the structure by radially expanding the ForceTec nut plate barrel into the hole. The expansion creates high interference between the barrel and the structure that allows the nut plate to resist torque and pushout. ForceTec installations exceed the requirements of MIL-N-25027 for torque and pushout. In addition, cold expansion of the retainers into the hole imparts compressive residual stresses into the surrounding material, increasing the fatigue performance of the hole.
Benefits of Forcetec Rivetless Nutplates
Eliminates nut plate rivet holes
Reduces production and manufacturing time
Improves fatigue life of structure
Exceeds MIL-N-25027 requirements for torque and pushout.
Simple, quick installation.
Not sure what ForceTec product is right for your application? Give us a call or email
HIGH INTERFERENCE BUSHING INSTALLATION
One of the most time consuming and complex processes of aircraft manufacturing and repair is bushing installations. Installing a shrink-fit bushing, using dangerous cryogenics, had technicians pounding a frozen bushing into place before it expanded back to its original size.
Not anymore. FTI has taken the proven science of cold expansion to make bushing installations a breeze. Using our technology, aircraft manufacturers and maintenance crews are reducing their bushing installation flow-time and costs while also installing a bushing that is superior in performance than the old shrink-fit or press-fit methods.

The ForceMate System provides an alternative to shrink or press fit bushing installation methods. Use of the system results in consistent high interference bushing installation and enhanced fatigue performance (whether needed or not), at reduced installation cost.
Benefits of ForceMate Bushings
Reduced Installation Cost:

Eliminates the need for cryogenic liquids and significantly reduces installation flow-time while decreasing the safety risk for the technician.

High Resistance to Rotation and Pushout:

The high interference fit provides for greater resistance to rotation or pushout than other bushing installation techniques.

Increased Resistance to Corrosion:

Initial clearance fit insures that corrosion protection coatings (e.g. cadmium plating) remain intact. Since no cryogenic materials are required, the risk of moisture becoming trapped between the bore of the hole and the bushing is eliminated, reducing the risk of corrosion.

Significant Life Improvement:

Beneficial residual compressive stresses are created around the hole and the bushing is installed with a high interference fit. The bushing is initially placed in the hole as clearance fit, and then using an oversized tapered mandrel, the lubricated ForceMate bushing is cold expanded into the hole. The resulting interference fit of the bushing, coupled with simultaneous cold working of the metal surrounding the hole, produces a fatigue life improvement of, typically, 3:1 or better.
BLIND FASTENING SYSTEM
TukLoc, the first mechanically attached blind fastening system for use in primary and secondary structures, utilizes a blind nut that is installed into the aircraft structure using FTI's state of the art cold expansion process. TukLoc is installed in the structure by radially expanding the fastener into the hole. This expansion creates an interference fit that is resistant to torque and pushout that also meets or exceeds the NASM25027 specification.
The expansion process locks the fastener into the structure and then common aerospace screws are installed to finish the fastened joint. The unique tooling utilized by this fastening system provides the first blind fastener that incorporates the benefits of Fatigue Technology's proprietary cold expansion systems to provide resistance to fatigue cracking. TukLoc is available in two versions: non-sealed or sealed applications (such as fuel tanks).
The mechanical expansion provides a secure, permanent sealing in applications where sealing is required. TukLoc is currently available in elliptical head configuration.
Benefits of TukLoc
Process consistency and repeatability
No additional sealants required when wet installed with primer
Rapid installation
Can be easily automated
ADVANCED AEROSPACE FITTINGS - FLEXMATE
FTI's FleXmate Advanced Aerospace Fitting process is a new system for installing hardware that is beneficial to your aircraft structure in multiple aspects - from design and manufacturing, to operation and maintenance. This system supports current manufacturing practices and is flexible in its uses – from fuel and gases fittings to hydraulics, electrical and drain fittings.
Legacy Fittings are usually large and heavily flanged requiring a thick or large diameter pad up. The assembly is often complex with multiple penetrations that require satellite fasteners around the fitting. This adds weight to the structure and limits the design of the aircraft.
The FleXmate system offers a better way of installing these fittings. Using our advance knowledge of the cold expansion process, we can provide a fitting that gives you design flexibility, offers structural durability, saves weight, and reduces production and maintenance costs.
Benefits of FleXmate Fittings
Weight reduction
Smaller footprint and simplified assembly
Simple one-piece designs
Electrically conductive
Fast and consistent interference fit installation
Typically 2:1 life improvement of the structure
Elimination of satellite holes
Excellent sealing characteristics
Hole Reinforcement for Composites
FTI's patented GromEx system is a cost-effective method for reinforcing fastener holes in composite materials using a thin interference fit metal sleeve or grommet. GromEx is based on FTI's proven cold expansion technology and is designed specifically for use in composites.
The amount of radial expansion of the grommet in the hole is carefully tailored to ensure adequate grommet retention and at the same time prevent localized damage to the composite. The GromEx system is easier to install, more reliable, and has improved performance over adhesive bonded or swaged grommets.
FTI expanded products achieve excellent bonding and grounding (or earthing) performance because each product is radially expanded from a clearance fit starting hole to produce a final interference fit in the structure or component. Our highly repeatable process produces uniform contact with the hole surface without gaps or insulating sealant. GromEx panel liners are used to protect composite panels from lightning strike damage and hole wear. They are suitable for use with any class or fit fastener and can be used to facilitate the installation of net fit fastners in load transfer applications. GromEx is available in common fastener configurations including "t-shape" and 100 degree countersunk configurations.
Benefits of GromEx
Initial clearance fit of grommet:
Ease of installation
Prevents installation damage
Installation without adhesives or sealants:
Significant installation labor savings
Reliable, better process control
No messy compounds or cure procedures
Assured grommet concentricity in hole
Quality installation:
Consistent fit
Can be used in a wide range of composites
Improved damage tolerance:
No fastener installation and removal damage
Better galvanic compatibility
Enhanced resistance to lightning strike damage
Protects the hole geometry under compressive loads
Applicable Composites:
Carbon/epoxy, carbon/BMI, Carbon/polyamide
Aramid/epoxy
Glass/epoxy
2D cross-laminated tape and fabric laminates, & short fiber
3D products
Grommet Materials:
Commercially pure titanium
Passivated austenitic stainless steel
Countersunk (100°), 0.010 inch nominal wall thickness. Fastener may be installed interference or clearance fit to NAS618 standards through use of appropriate tool set and starting hole.
Thicker walled grommets available.
Fastener Sizes:
Standard system: From 3/16 to 1/2 inch in 1/16 inch increments
RAILTEC OVERVIEW
The RailTec System was developed for the rail industry and is based on FTI's Split Sleeve Cold Expansion System. The flexibility of the system enables it to be easily applied to all main line or branch line track as part of routine maintenance. Rail with small fatigue cracks can be reworked and safely returned to service. Additionally, the system can be used during the manufacture of rails, frogs, and switches.
The cold expansion process increases the life of a bolt hole by producing a zone of residual compressive stresses around the hole. This is achieved by drawing an oversized, tapered mandrel through an internally pre-lubricated split sleeve in the hole. When the mandrel passes through the hole, the combined major diameter of the mandrel and thickness of the sleeve enlarge the hole, yielding the material directly around the hole and creating the protective zone of residual stress. This zone protects the hole from the stresses applied to the rail end and significantly decreases the probability of fatigue cracks. The cold expansion process, when applied to typical rail stock, increases the life of the bolt hole by at least 3:1.
Benefits of the Railtec System
Improves the fatigue life of the hole by at least 3:1
Arrests the growth or small cracks
Cost-effective alternative to new track
Reduces maintenance and inspection costs
Increases the overall structural integrity and safety of the line
Read on here about the testing introduction and results.
WHAT IS STOPCRACKEX?
Many fatigue cracks in bridge structures are drill stopped to repair the bridge. However, drill stopping may only stop a crack from growing for a short time. FTI's StopCrackEX System cold expands a bushing into a drill stop, imparting residual compressive stresses around it, protecting it from cyclic loads. This large zone of residual compression around the drill stop greatly reduces crack growth, even when the drill stop misses the tip of the crack. Independent, third-party testing has shown that this repair method extends the fatigue life of the drill stop by over ten times.
StopCrackEX is based on FTI's Cold Expansion System and products that are being used by virtually every commercial and military aircraft manufacturer worldwide to extend the fatigue life of holes in metallic structures. FTI's 40 years of engineering expertise has lead us to become the world leaders in expanded products.
Benefits of the StopCrackEX System
Arrests growth of small cracks in holes
Extends fatigue life of drill stops by over 10 times
Cost-effective alternative to redesign of structure
Installed bushing for positive visual inspection
Simple and easy-to-use one-sided operation
Reduces maintenance and inspection costs
Read on here about the testing introduction and results.

ISO 9001:2015/AS9100D Certification
FTI is proud to receive accreditation to the new requirements of ISO 9001:2015/AS9100D. This re-certification of our Quality Management System was awarded by TUV USA Inc. in April of 2018.
The ISO 9001:2015/AS9100D certification was established to standardize worldwide aerospace quality expectations and to achieve significant improvements in reducing costs throughout the value stream or supply chain. This includes provisions for regulatory requirements and the importance of safe reliability and maintainability. In today's marketplace, aerospace customers are putting more pressure on their suppliers to be in compliance with these standards.
FTI has always been committed to continuous improvement of our products, processes, and services. In 1996, we adopted the ISO 9001 international standard designed to provide companies and organizations with a common approach to applying a Quality Management System. In August of 2001, AS9100 was introduced to include additional quality system requirements for suppliers to the aerospace industry and is now approved by aerospace companies in Asia and Europe as well.

Fatigue Technology
401 Andover Park E
Seattle, WA 98188
Phone:  (206) 246-2010
Website: fatiguetech.com
Fatigue Technology (FTI) corporate headquarters is convienently located 10 minutes from Sea-Tac International Airport (SEA) and 15 minutes from downtown Seattle, Washington, USA. If you are a customer, potential customer, educational or professional oganization, and are interested in visiting FTI - please send us an email or give us a call. We provide tours and host industry events throughout the year to a variety of groups from around the state and around the globe.