Shur-Lok International
Shur-Lok International specializes in the design, test, and manufacture of nuts for critical aircraft applications in which thread locking is a primary requirement.

Delivering locking solutions for the most challenging applications
Founded in 1951 by Frederick W. Rohé in California, Shur-Lok has been developing innovative locking devices for more than 6o years
Our fasteners are used in high vibration and load transfer applications to provide superior alignment, load transfer, resistance to wear and movement, and ease of assembly.
Our key product lines include bearing locknuts, barrel nuts, expandable diameter fasteners, studs and inserts, lockwireless fittings, and sandwich panel inserts.
Shur-Lok serves its worldwide customers from two design and manufacturing centers: Shur-Lok Company operates a 75,000 sq. ft. facility in Irvine, California and Shur-Lok International a 48,000 sq. ft. facility in Petit-Rechain, Belgium.
Shur-Lok was acquired by PCC in January of 2006.

Innovative Fasteners for Special Applications
When ordinary fasteners won't do, Shur-Lok is an extraordinary resource. An experienced engineering team specializes in advanced technologies, consistently exploring new structural materials and solving the toughest application problems.
Shur-Lok has numerous firsts and patents to its credit, and many of its products have gone on to become industry standards. We welcome your custom design challenges as an opportunity to push the envelope and create the standards of tomorrow.
Shur-Lok fasteners and components are designed to satisfy customer requirements in two general application areas:
Primary Structure
Critical to flight safety including areas of an aircraft engine, pylon, landing gear, wing, gearbox/transmission, and helicopter rotor
Secondary Structure
Non flight safety critical areas such as interior stow bins, lavatories, and galleys
Shur-Lok Engineering Team
Our customers are invited to regard the Shur-Lok engineering team as an extension of your company, fully integrated into the design of a new prototype, and available to participate and contribute valuable expertise whenever needed.
Key Process include:
CNC Milling and Turning
CNC Waterjet Cutting
Laser Marking
Heat Treating
Non Destructive Testing
Electrical Discharge Machining (EDM)
Progressive Die Forming
Multispindle Screw Machining
Thread Forming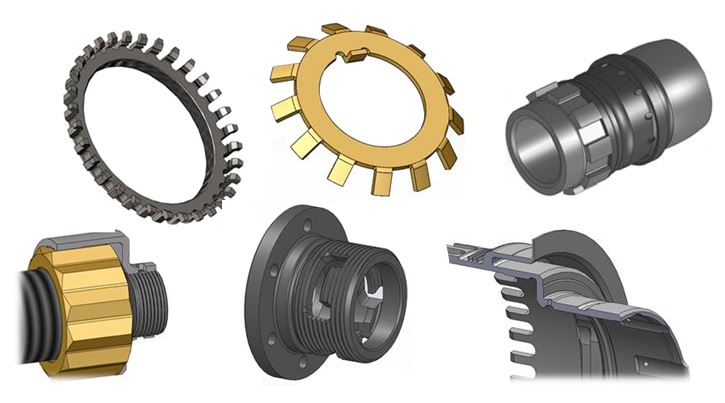 Innovative Fasteners for Special Applications
We welcome your custom design challenges as an opportunity to push the envelope and create the standards of tomorrow. Shur-Lok's current product lines include:
The Lockwireless B-Nut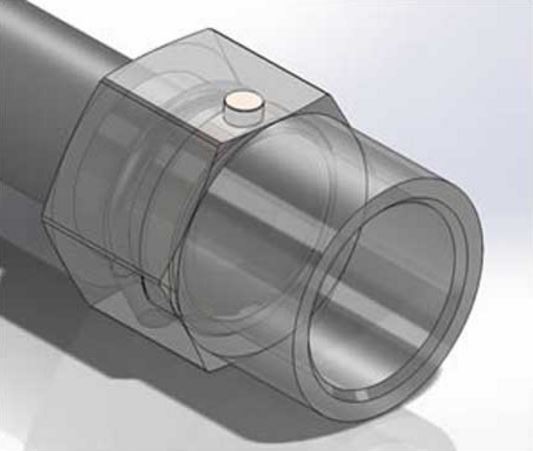 The Lockwireless B-Nut provides a practical solution to allow end-users the ability to eliminate the need to install tedious, time-consuming lockwire that is otherwise required to ensure the fluid coupling joint does not separate.
Its use allows for simple and quick fluid coupling installation and eliminates possible FOD in critical applications, while still providing crucial reusability over the lifetime of the fluid coupling joint. Configured to minimize impact to existing application components and envelopes, the B-Nut can be installed in applications without additional tooling.
The product solution can be applied to numerous sealing-system-and-material combinations to achieve a customer's specific application demands.
Barrel Nuts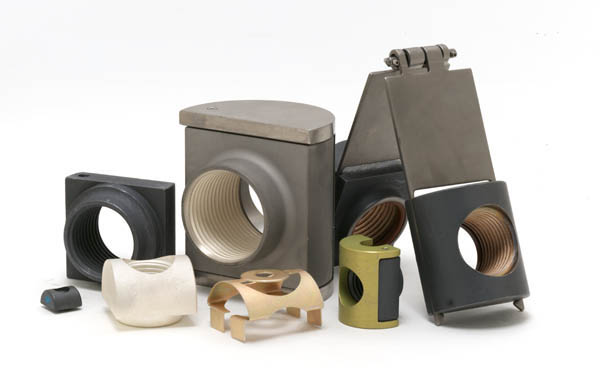 Barrel nuts minimize drilling and eliminate the need for long expensive bolts when attaching heavy structural members in high-tensile applications, such as hanging aircraft engines or attaching wings or tails to the fuselage. Barrel nut retainers are sheet metal parts that typically clip on barrel nuts to facilitate their installation in holes and alignment with mating bolts.
Fabricated in advanced aerospace alloys, barrel nut designs include floating or nonfloating, metallic lock or nonmetallic ring, tandem nuts with spreaders, spreaders that articulate, and barrel nuts with attached retainers or lanyards.
Bearing Locknuts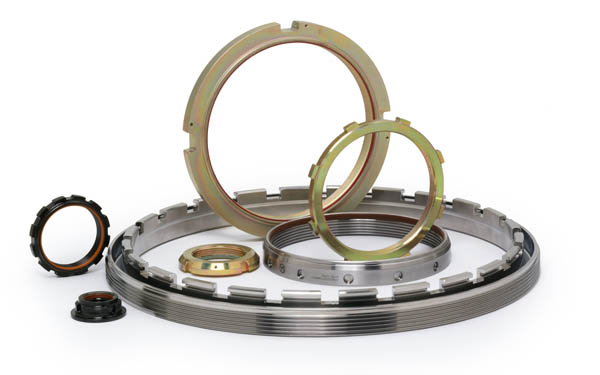 Bearing locknuts are designed for shaft or spindle applications in aircraft engines, gearboxes and transmissions to provide a positive rotational lock under vibratory conditions and maintain precise torque pre-loads. Our STA-LOK® system uses a serrated washer that installs onto a serrated shaft and then snaps into or over the nut to retain it. The precision and effectiveness of this mechanical lock has made it the industry design standard. Bearing Locknuts are available in advance aerospace alloys with either internal or external threads, internal or external wrenching slots or holes, and metallic or nonmetallic locking devices in sizes from 0.5 to 8 inches in diameter.
Expandable Diameter Fasteners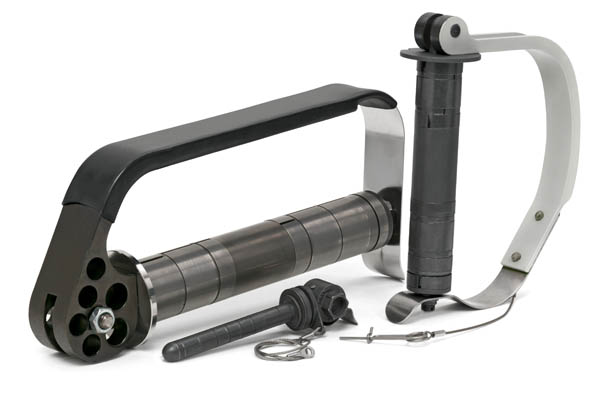 Expandable diameter fasteners are custom-engineered to expand in a hole to prevent fretting. These unique fasteners can eliminate the need for expensive close tolerance machining or press fits. Typical applications include: aircraft engine mounting, helicopter blade attachment, mounting of anti-friction bearings, and redesigns requiring a tighter joint.
The heart of the fastener is the expandable bushing stack of alternating tapered split bushings. When a compressive force is applied to the ends of the bushing stack, the diameter of the fastener increases. When the force is relaxed, the bushings return to their original diameter, and the fastener can easily be removed and re-used.
The family of expandable diameter fasteners include: bolts, blind bolts, shafts, and cam-operated pins.
Inserts for Sandwich Structure

Inserts are potted or mechanically installed in sandwich material, like honeycomb, to allow fabrication of aircraft interior secondary structure including stow bins, galleys, and lavatories. Insert types include threaded or nonthreaded, through or blind, locking or nonlocking. Floating inserts feature a nut component that can move to compensate for screw misalignment.
Spacers are installed in structural applications, most typically in aircraft floors. Spacers are either one-piece or a two piece system of plug and sleeve. Often spacers are installed with epoxy under the flange to increase shear load carrying capability.
Boss Adapters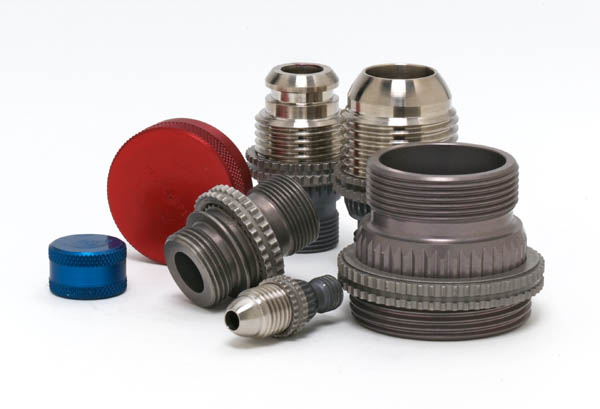 Shur-Lok makes several types of lockwireless boss adapters that will not rotate under extreme service conditions. The adapters provide reliable fluid line connections to engine housings, gearboxes, manifolds.
Ring locked boss adapters consist of a fitting with external serrations and a matching lock ring supplied as an assembly to simplify installation. Once the fitting assembly is threaded into the port and torqued to provide proper sealing, the lock ring is driven into the standard prebroached port to prevent the fitting from turning. The unique port end configuration results in a lower stand-off that provides for the design of a compact boss.
Shur-Lok B-Nuts are another type of lockwireless boss adapter in which the locking element is contained within the nut. It installs in tight spaces without special tools.
Shur-Lok boss adapters are designed for applications in fuel or fluid systems of aircraft, helicopter, and engines. Qualified to SAE inch and metric standards, these fittings are certified to operate in systems pressurized to 3,000 PSI, 4,000 PSI, 5,000 PSI or 8,000 PSI, and designed to exceed operating temperatures of -65F to 450F (-48C to 218C).
Shur-Lok adapters are available in titanium and CRES and feature three sealing configurations: dynamic beam (MIL-F-85720/1 and EN2604), flareless (MS33514 and EN2605 or EN2606), and flared (AS4395).
Studs and Inserts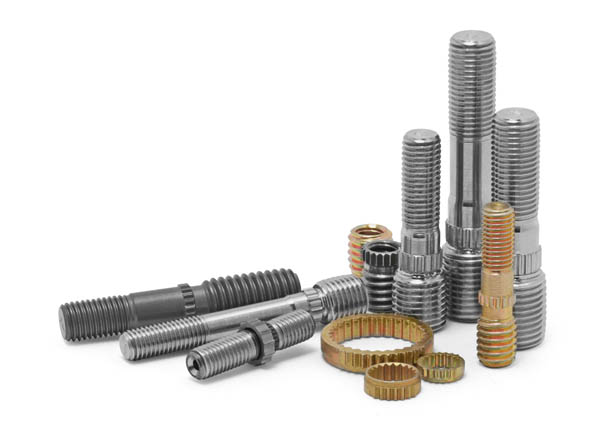 Shur-Lok studs and inserts are designed for resistance to high torque-out and pullout loads. These products are ideal for the high fatigue and vibration environments of aero engines, gearboxes, turbo machinery, and military vehicles. Shur-Lok manufactures studs and inserts with a variety of locking features including keyed ring, ring locked, and Vespel®.
Shur-Lok studs and inserts are covered by MS, DOD, LN, DIN, OEM, and Shur-Lok standards. They are available in a wide range of materials, finishes, and thread locking features.
Miscellaneous Fasteners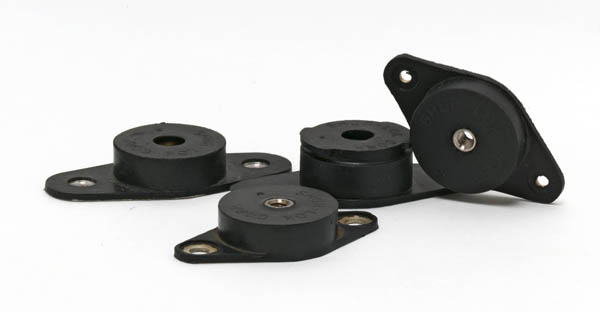 Isolator mounts are designed to reduce vibration, noise and heat transfer to the interior of aircraft. These neoprene or silicone rubber and metal fasteners are typically installed between the exterior fuselage and interior aircraft passenger walls. Types include nuts with thread lock or quick-release receptacles when frequent removal is required.
Blind Inserts are installed from one side and are typically used in sheet metal applications where high-torque is required. Types include flush or plus flush heads, locking or nonlocking, carbon or stainless steel.
Shur-Lok has designed special inserts for a myriad of additional applications. Please check with us as to whether we already have an insert design that will fit your special requirement.
Precision Machined Components and Assemblies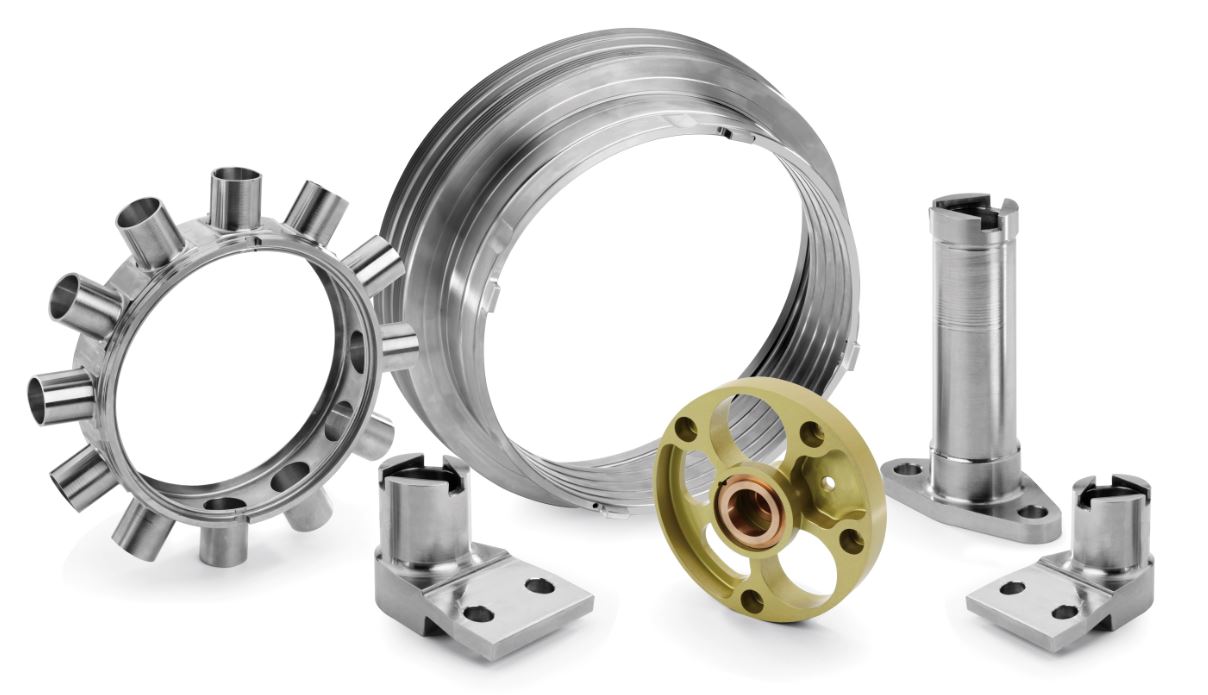 Shur-Lok International processes all aerospace materials with particular expertise in machining and assembling engine and airframe structural components in high-alloyed steels, stainless steels, high-temperature-resistant steels, and titanium. We machine rotationally symmetrical components up to 400 mm (15.8 inch) diameter and prismatic components up to 600mm (23.6 inch) x 500 mm (19.7 inch) x 500 mm (19.7 inch).

Precision Manufacturing-Quality Assured
Shur-Lok's precision manufacturing facilities provide a high degree of flexibility for satisfying both large and small volume production requirements.
From purchasing the latest CNC equipment to building its own secondary operation and assembly machines, Shur-Lok capitalizes on cutting edge manufacturing technology. The company regularly upgrades equipment as it strives to achieve World Class Manufacturing.
Through cellular manufacturing, operators are cross-trained to run most machines in their cell, and they take responsibility for the total production of the part. Many of Shur-Lok's machine operators are trained and certified to inspect their own work.
Extensive quality assurance programs verify the results. Skilled personnel and modern equipment for controlling and testing make certain that the company's fasteners and components adhere to the industry's highest quality standards. Both Shur-Lok company and Shur-Lok International maintain Quality Assurance systems that are AS9100 certified.
By setting the highest standards for itself, Shur-Lok also has achieved participation in self-release programs initiated by its major customers. Through these programs, designated Shur-Lok employees are authorized to act as the customer's inspectors so finished products can be shipped directly to customer stores and production lines without further examination.

Shur-Lok International, S.A.
Parc Industriel de et á B-4800
Petit-Rechain, Belgium
Phone: (32) 87-32.07.11
Fax: (32) 87-32.07.12