---
---
About Us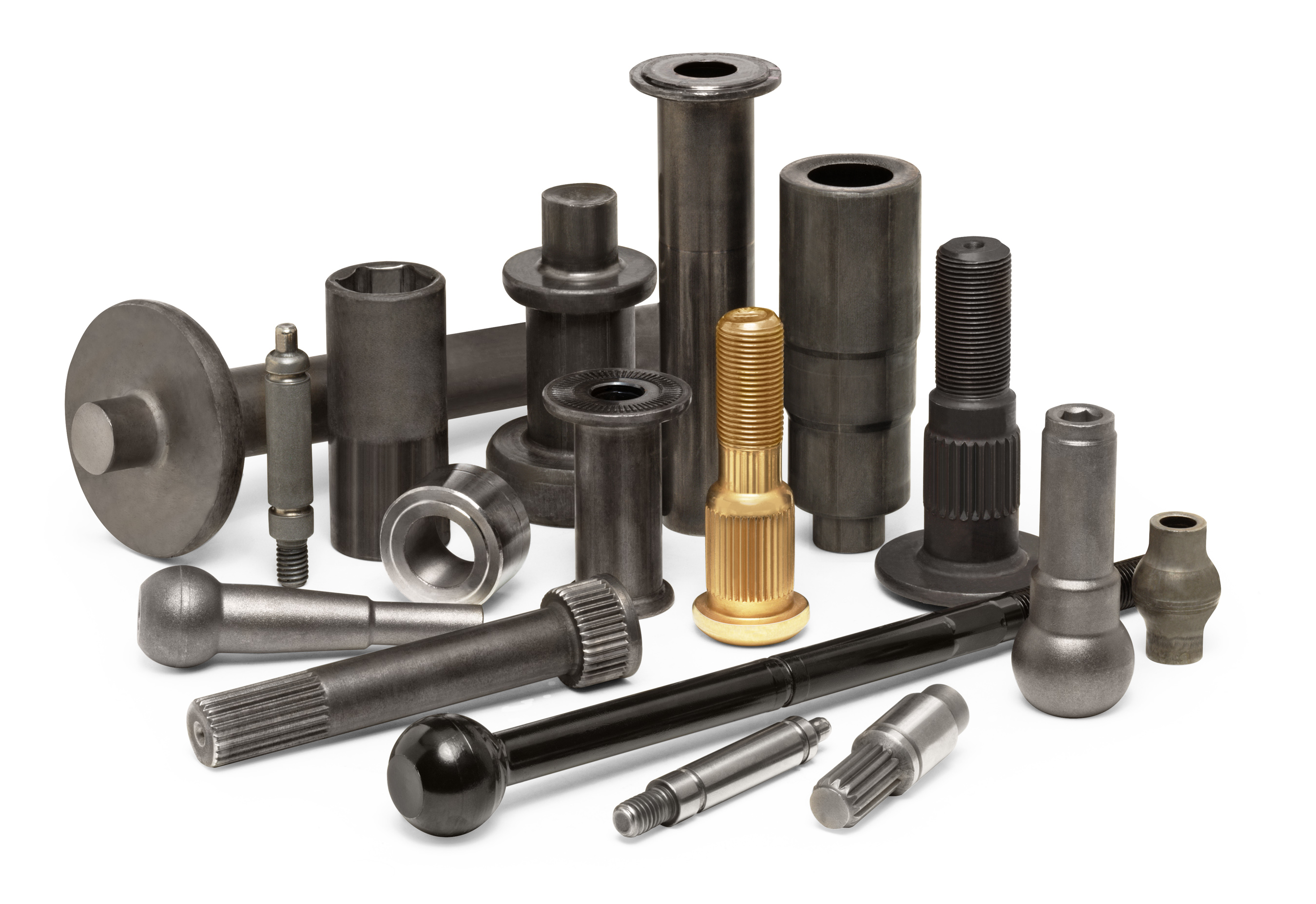 Forging better solutions
Net Shaped Solutions (NSS) provides innovative cold forged product solutions for a wide variety of high-impact applications. Our process creates products that are stronger, more durable and better engineered. Please inquire today if NSS' superior cold forging process can help you become leaner, smarter, and more efficient.
COLD FORGed performance
NSS has more than 40 years of experience in net shaped cold forged products with extensive in-house engineering design and production capabilities, including:
30 cold formers and thread rollers with the capacity for 3/8" (9.5 mm) to 1 1/2" (38.1 mm) wire diameter and an ability to use prepared slugs up to 2.2" (56 mm) in diameter
Solution development and engineering design
Tailored tool manufacturing
Extensive material knowledge and experience
The Process

During the development cycle unheated wire or slugs are forced into a die using extreme pressure from cold formers.

The cold formers are typically horizontal and are set up to have multiple forming stations.

Each station contains a punch and die that form a characteristic of the finished part.
This process allows for NSS and our clients to benefit from the advantages found in cold forging, which include:
Less Scrap / Material Savings

Elimination / Reduction of Additional Machining Operations

Improved Strength, Mechanical Properties, Grain Flow

Improved Surface Finish Versus Machined Products

High-Speed Production (35 to >300 parts per minute)
---
Capabilities

markets
The cold forging process is characterized by high-speed production, reduced waste, and stronger materials. NSS works to develop parts that are tailor made for each industry and project, ensuring that exact specifications are met.

NSS manufactures custom cold forged parts for a variety of markets, including:
Technical Capability
Internal Forging Process Design
Net Shaped Solutions has over 100 years of in-house cold forging process design and development experience. This extensive understanding of the cold forging process allows NSS to offer process possibilities that others cannot and gets our customers the results they need.
Internal Tooling Design
Net Shaped Solutions has over 100 years of combined cold forge tooling design experience. This vast pool of knowledge, along with the latest in CAD and FEA technologies, allows NSS to react quickly to our customers' desires and provide them with the most robust, creative and efficient options to ultimately give them the competitive advantage.
Tailored Processes
Net Shaped Solutions has a proven record of developing creative processes to meet your product requirements. We work with both internal and qualified external partners of Heat Treating, Machining, Grinding, Coating, Plating and Assembly to deliver reliable, cost effective products on time.
Tailored Materials
Net Shaped Solutions has its own in house Metallurgist with nearly 30 years of experience in the Steel Making and Metal Forming industries. We have the experience to tailor material properties and compositions to meet your stringent requirements. Whether Steel, Copper, Aluminum or Stainless Steel, Net Shaped Solutions can source materials that meet most specifications.
---
Products










Process Experts in cold forged performance
NSS Technologies™ net and near-net shaped products are created by forcing an unheated metal under extreme pressure into a multi-stage die set. Our experience and expertise allow us to create better solutions for challenges in producing complex parts. Products include:


Balls Studs

Ball Stud Housings

Ball Yokes

Construction Bits

Hex Tubes

Mining Bits

Roller Bearings

Sockets

Starter Gears
---
Quality















Quality and Environmental Commitments
Net Shaped Solutions is proud to maintain certification to both TS16949 (Quality Management System) and ISO14001 (Environmental Management System).
In addition, Net Shaped Solutions and its suppliers strive to meet all customer expectations and promote pollution prevention measures though its Environmental Communication.
---
Contact Us
Net Shaped Solutions
---
Address:
8680 North Haggerty Road
Canton, Michigan 48187
T: 734-459-9500

---